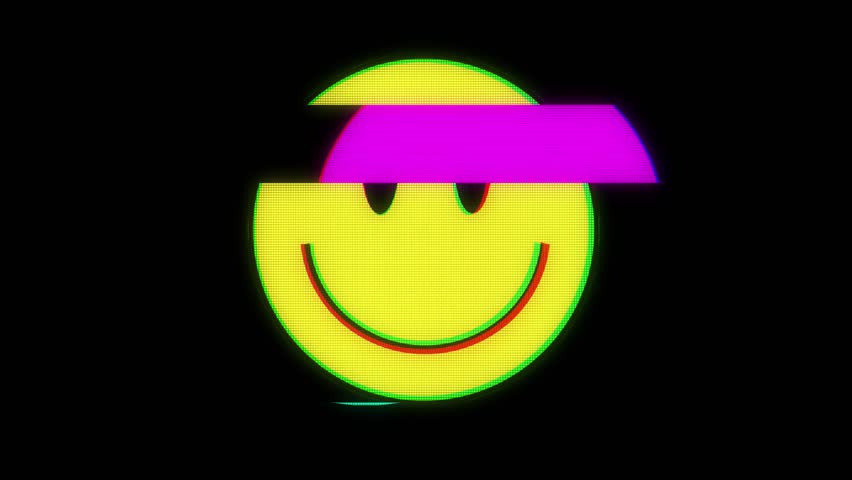 Smile
Fun fact! The word "smiles" is supposed to be the longest word in the dictionary because there is a mile between the first and last letters.
The word smile is considered to be an easy one, according to the Dale-Chall word list, which includes 3000 words that all fourth-grade American students should know and understand.
Video footage: Smile hud holographic symbol on digital old tv screen seamless loop glitch interference animation new dynamic retro joyful colorful retro vintage video footage
Play/pause
Buy footage
Find more
Definition of the noun
smile
What does smile mean as a name of something?
Smile is one of the top 1000 most common nouns in the English language.View more statistics!
noun - plural: smiles
a facial expression characterized by turning up the corners of the mouth; usually shows pleasure or amusement
Alternative definition of the noun
smile
noun
A facial expression comprised by flexing the muscles of both ends of one's mouth while showing the front teeth, without vocalisation, and in humans is a common involuntary or voluntary expression of happiness, pleasure, amusement or anxiety.
Definition of the verb
smile
What does smile mean as a doing word?
Smile is one of the top 1000 most common verbs in the English language.View more statistics!
verb - inflections: smiled | smiling | smiles
change one's facial expression by spreading the lips, often to signal pleasure

syntax

:

Syntactic formula
Example for the syntactic formula
[

Agent

- being] [Verb]
Paul laughed
[

Agent

- being] [Verb] [Oblique] [Adjective]
Paul laughed himself sick
[

Agent

- being] [Verb] [Oblique 1] [

Path Preposition

] [Oblique 2]
The audience laughed the actor off the stage
[

Agent

- being] [Verb] [

Theme

]
Paul laughed a cheerful laugh
[

Agent

- being] [Verb] at [

Cause

]
Paul laughed at the story
[

Agent

- being] [Verb] in / from [

Theme

]
She laughed in/from embarrassment
[

Agent

- being] [Verb] at / to / towards / for [

Recipient

]
Paul laughed at Mary

Verbs Involving the Body (with the same syntax): beam, cackle, chortle, chuckle, cough, cry, frown, gape, gasp, gawk, giggle, glare, glower, goggle, grimace, grin, groan, growl, guffaw, howl, jeer, laugh, moan, pout, scoff, scowl, sigh, simper, smirk, sneer, sneeze, snicker, sniff, snigger, snivel, snore, snort, sob, titter, weep, whistle, yawn.

lexical domain

: Body Actions - verbs of grooming, dressing and bodily care

more generic terms

: grimace / make a face / pull a face

= contort the face to indicate a certain mental or emotional state

more specific words

:

express with a smile

example

: She smiled her thanks

lexical domain

: Communication - verbs of telling, asking, ordering, singing
Alternative definition of the verb
smile
verb
[transitive] or [intransitive] To have a smile on one's face
Person
Who is Smile?
Smile a.k.a. Jia Nailiang Chinese: 贾乃亮, born April 12, 1984 in Harbin, is a Chinese actor.
Groups
Smile were a London-based blues rock band best known as the predecessor to renowned rock band Queen. The band was formed in 1968 by Brian May, who went on to become Queen's guitarist. It included Tim Staffell as singer and bassist, and later, drummer Roger Taylor, who also went on to play for Queen. They recorded only six songs and disbanded in 1970.
Smile was an American rock band.
Smile is a musical group.

album: "Painting the Sun One Colour"
There are other groups with in their name, like Smile.dk, IMT Smile, Smile Ease, Smile Kick, Fatal Smile, Smile Smile, Smile×Smile, I.M.T. Smile, Jungle Smile, Lizard Smile, Meishi Smile, A Brief Smile, Chelsea Smile, Crowbar Smile, Glasgow smile, New cut smile, 100 Watt Smile, Smile and Burn, Milligram Smile and Smile Empty Soul.
Business
Smile, or smile.co.uk, is a British internet bank, and a trading name of The Co-operative Bank. It was established as the UK's first full internet bank in 1999. Other banks, like Egg and First-e, had opened in previous years but Smile was the first to offer full-service current accounts, savings, ISAs, investments and credit cards. The bank's principal offices are located in the King's Valley Pyramid building in Stockport.
also known as www.smile.co.uk, smile.co.uk, Smile銀行, Smile網上銀行
official website: www.smile.co.uk
Animal
Smile was a Florida-bred racehorse born in 1982. He was sired by the stallion In Reality and was out of the Boldnesian mare Sunny Smile, who also produced the Gr. 2 winner Sunshine Today and the multiple stakes winner Charging Through.
Music
"SMiLE": Brian Wilson Presents Smile is a series of concert performances by Brian Wilson subsequently adapted as a 2004 studio album and 2005 direct-to-video concert film. The album received great acclaim and earned Wilson his first Grammy Award, later being featured in several "greatest albums" lists.
"Smile" is a song based on an instrumental theme used in the soundtrack for the 1936 Charlie Chaplin movie Modern Times. Chaplin composed the music, while John Turner and Geoffrey Parsons added the lyrics and title in 1954. In the lyrics, based on lines and themes from the film, the singer is telling the listener to cheer up and that there is always a bright tomorrow, just as long as they smile. "Smile" has become a popular standard since its original use in Chaplin's film. It was used as the theme song on The Jerry Lewis Show from 1967-69.
"Smile" is the debut single by British recording artist Lily Allen from her debut studio album Alright, Still. It was written by Allen, Iyiola Babalola and Darren Lewis, while sampling The Soul Brothers' "Free Soul". The song was released as the lead mainstream single of the album in July 2006. After signing a contract deal with Regal Recordings and gaining popularity on the social network website Myspace with demo songs, Allen released a limited edition of "LDN" to promote her work and afterwards announced the release of "Smile".
"Smile" is a song by Canadian recording artist Avril Lavigne, taken as the second single from her fourth studio album, Goodbye Lullaby. Written by Lavigne with its producers Max Martin and Shellback. "Smile" was released on 11 April 2011 to Australian radio stations and then on 17 May to U.S. radio as the second single. The song received favorable reviews from music critics, who described the track as a "sassy and catchy pop song". A music video directed by Shane Drake was filmed in April 2011 and released on May 20. It has charted inside the top-thirty on the Australian, Japanese and New Zealand charts. By November 2014, The music video has reached 100 million views on Vevo.
"Smile" was the lead single released from Scarface's fourth album, The Untouchable. It was produced by Scarface, Mike Dean and Tone Capone and featured a last appearance from 2Pac, as well as R&B singer Johnny P. "Smile" was a huge success, becoming Scarface's biggest charting and most successful single to date, making it to 12 on the Billboard Hot 100.
"Smile" is a single by guitarist and vocalist David Gilmour, released on 13 June 2006. The song was on the UK charts for 1 week and peaked at 72.
"Smile" is a song by Uncle Kracker from his 2009 album Happy Hour. The song is Uncle Kracker's first single since 2004's "Writing It Down". It has peaked at #31 on the Billboard Hot 100. The song is also his second entry on the Hot Country Songs charts, debuting at #57 on the week of November 7, 2009. Sheryl Crow sings backing vocals at the end.
"Smile" is an album by British shoegazing band Ride. It is a compilation of Ride's first two EPs, Ride and Play, both of which were originally released in the first half of 1990. The album was first released by Sire Records, in July, 1990, for the North American market, in lieu of the two original British EPs. Two years later, on November 23, 1992, it was released in the UK.
"Smile" is the fourteenth full-length album by Japanese band Boris. It was released through Diwphalanx Records in early 2008, featuring guest musicians Michio Kurihara of Ghost and Stephen O'Malley of Sunn O))), both of whom have collaborated with Boris in the past. Shortly after this initial release, the album was released by American label Southern Lord with a slightly different track listing, different artwork, and an almost entirely different sound. The first 3000 copies of this edition include a DVD containing videos for "Statement", "Pink" and "My Neighbor Satan".
"Smile" is a composition.
"Smile" is an album by the American alt-country and alt-rock band The Jayhawks, released in 2000. It reached #129 on the Billboard 200 and #14 on Billboard's Top Internet Albums chart.
"Smile" is the ninth album by L'Arc-en-Ciel, released on March 31, 2004. It was the band's first original studio album after a prolonged hiatus. Smile was later given a United States release by Tofu Records, for which all Japanese song titles received English translations. The song "Ready Steady Go" was used as the second opening for the Fullmetal Alchemist anime.
"Smile" is the debut single by Vitamin C released in 1999. It was the first single released from her eponymous debut solo album. The song features vocals from reggae singer Lady Saw.
"Smile" is a song by American hip hop group G-Unit, released in April 2004, as the fifth and final single from their debut album, Beg for Mercy. The song was produced by No I.D. and contains a sample "I Too Am Wanting", as performed by Syreeta.
"Smile" a.k.a. "Smile!" is a Russian album by Vitas, released in 2002. Several songs from this album featured in his Philosophy of Miracle concert programme, whose performance at the Kremlin earned Vitas a record as the youngest artist to perform a solo concert at the State Kremlin Palace; a DVD of this concert was later released.
"Smile" a.k.a. "Smile (Songs From the Movies)" is a musical album of Lyle Lovett.

released on (11 years ago)

"Smile" is the sixth album by New York singer, songwriter and pianist Laura Nyro. It was released in early 1976 following a four-year hiatus from the music industry during which time she both married and divorced, and lived away from the spotlight.
"Smile" is the second studio album by Filipino singer Nina, released in the Philippines on December 12, 2003 by Warner Music. The album was a follow-up to the tremendous success of her debut album. It resembles the same sound from its predecessor, but only bigger and bolder in terms of incorporating urban-style to upbeat rhythmic jams and harmonic sound to powerful sentimental ballads. Ricky Ilacad, head of Warner label, assigned a few international songwriters and arrangers, including Jörgen Elofsson and Rudy Pérez, to collaborate with the label on the production of the album, which is noticeably broader compared to the first project. For the first time, Nina wrote a song, "Can't Say I Love You", which made it to the final cut. The album contains three cover versions of songs by Madonna, Baron Barbers and Cris Villonco.
Writings
"Smile" is a musical with music by Marvin Hamlisch and book and lyrics by Howard Ashman. It was originally produced on Broadway in 1986. The musical is based loosely on the 1975 comedy film of the same title, from a screenplay by Jerry Belson.
"Smile" is an autobiographical graphic novel written by Raina Telgemeier. It gives an account of the author's life from sixth grade to high school. The book is based on Telgemeier's webcomic, Smile.
"Smile" a.k.a. "Smile!" is a children's book by Geraldine McCaughrean. In 2004 it won the Nestlé Smarties Book Prize Bronze Award.

language: English Language
genre: Children's literature
released on (11 years ago)
award:
Films
"Smile" is a 2005 film written and directed by Jeffrey Kramer.
"Smile" is a 1975 satirical comedy-drama film directed by Michael Ritchie with a screenplay by Jerry Belson about a beauty pageant in Santa Rosa, California.

country: United States of America
language: English Language
starring:
edited by Richard A. Harris
location: Santa Rosa
genres: Satire, Parody, Comedy, Drama
subjects: Beauty Pageant, Middle America
rating: PG (USA)
released on (39 years ago)
award: - Writers Guild of America Award for Best Original Comedy nomination for Jerry Belson

Smile a.k.a. Smile, You is a 2009 South Korean television series starring Lee Min-jung and Jung Kyung-ho, in their first leading roles in a Korean drama. Directed by Lee Tae-gon and written by Moon Hee-jung, it aired on SBS from September 26, 2009 to March 7, 2010 on Saturdays and Sundays at 21:45 for 45 episodes. In the drama, a wealthy household's fall from grace forces them to bunk with their ex-chauffeur's family.
Smile is a Japanese television drama series, shown on TBS started last April 17, 2009. Jun Matsumoto plays the lead role of Vito, a half-Filipino, half-Japanese man who always smiles despite all of the problems and difficulties he faces.

also known as Sumairu
begun on and completed on (5 years ago)
country: Japan
regular cast:
genres: Romance Film, Drama
official website: www.tbs.co.jp/smile09

"Smile" is a 2009 English language Italian horror/thriller film, starring Armand Assante. It is the debut feature by Francesco Gasperoni.
"Smile" a.k.a. "Punnagai" is a 1971 drama film directed by K. Balachander.
"Smile" a.k.a. "Smile!" is a short film.

genre: Educational film
released in (10 years ago)
Miscellanea
Smile was a British Sunday morning children's programme created by production company Darrall Macqueen Ltd for CBBC. It first aired in 2002 and was originally shown on the CBBC Channel. It was moved to BBC Two to make way for Dick and Dom in da Bungalow. Although Dick and Dom finished in 2006, Smile never moved back to the CBBC Channel. The final programme was broadcast on 26 August 2007, from 7:30 until 10:00 on BBC Two.

begun on and completed on (7 years ago)
country: United Kingdom
regular cast:
genre: Children's television series

Smile is a free Macintosh computer programming and working environment based on AppleScript. It features a number of production technologies and a natural fashion of having them work together. Smile is primarily designed for scientists, engineers, desktop publishers, and web applications developers, to help them produce faster and better work, automate frequent tasks, and control complex operations.
SmILE is a showcase car designed for Greenpeace in 1996 to demonstrate how fuel efficient a car can be. The name stands for "Small, Intelligent, Light, Efficient'. It is based on the Renault Twingo, halving its fuel consumption to 3.3 l/100km.
Smile was a magazine aimed at teenage girls. At first it was supposed to be a mainstream teen mag similar to Seventeen, but with added manga; later, it became more focused on manga and removed most of its other features. It was discontinued in 2002. It was published by TOKYOPOP.
Smile is a computer data interchange format based on JSON. It can also be considered as a binary serialization of generic JSON data model, which means that tools that operation on JSON may be used with Smile as well, as long as proper encoder/decoder exists for tool to use. The name comes from first 2 bytes of the 4 byte header, which consist of Smiley ":)" followed by a linefeed: choice made to make it easier to recognize Smile-encoded data files using textual command-line tools.
Phrases with
Smile
Printed dictionaries and other books with definitions for
Smile
Click on a title to look inside that book (if available):
Selected Poems by Mary Melfi
The smile is an acrobat, ready to please the twentieth century: awkward sneer. The smile is a giant octopus in an aquarium, indifferent to the smiles of school children.
The smile is the best of all possible habitats earned by hard work.
Musings on Human Values by Yusef Saee
A smile is the most unadorned window through which Two human beings can see each other's heavenly lives.
by P. Corcoran
Even the simplest smile is a coordinated response to visual and aural perception that combines vocal and facial expression with...
Disfigurement and the Politics of Appearance by Heather Laine Talley
The smile is a semaphore to describe the accomplishments of facial work. As the most...
By contrast, the smile is a salient and desirable expression because it represents highly valued dimensions of human life. And yet, cultural...
A Survival Guide to Customs and Etiquette by Alfredo Roces, Grace Roses
A smile is a convenient reply when a person does not want to say something unpleasant. Rather than get something critical...
smile is the perfect euphemism. A smile is the best way out of having to say something that could create controversy.
The "grinner" is a nuisance, but the genuine smile is an inspiration; it is infectious; it keeps the tire out of labor. It puts energy...
81 Power Moves to Outperform, Outmaneuver, and Outsmart the Competition by Ali Pervez
SMILE "A smile is the light in the window ofyour face that tells people your heart is at home. " Judith Byrne...
A smile is the connecting point of a relationship, whether personal or professional. It signals...
by Sir William Crookes, George Wharton Simpson
To smile is a joy reserved for mankind alone, for the hysena does not laugh, whatever unscientific natural historians may...
An Ex-FBI Agent's Guide to Influencing, Attracting, and Winning People Over by Jack Schafer, Marvin Karlins
A smile is a powerful "friend" signal. Smiling faces are judged to be...
The Biology behind the Heart by Anthony Walsh
The infant smile is an important reflexive behavior in...
The infant's smile is a strong reinforcer for the caregiver to continue to administer to ...
by Jeanette Lockerbie
For instance, a smile is the finest medium of exchange we ...
to smile, to simper. Prov. Dan. Smila, to flatter, to be false. Pol. smead się Boh. smatise, to laugh. The ultimate origin of the expression is the caressing of an infant with the mouth ...
by Michael Graves
Drunken smile >:—> Evil grin >=) Evil intentions :—P Sticking tongue out ...
by Elyse Sommer
BLANK; FEAR; HEAD MOVEMENTS; KNOWLEDGE; MEN AND WOMEN; POLITICS/POLITI— CIANS; ROOMS; SMILE; STEADINESS Le Fanu, Joseph Sheridan GLIMMER, GLITTER AND GLOSS; PALLOR; WATCHFULNESS Le Gallienne, ...
Online dictionaries and encyclopedias with entries for
Smile
Click on a label to prioritize search results according to that topic:
Usage statistics about
smile
The following statistics are based on the British National Corpus, so they are representative for the British English from the later part of the 20th century, both spoken and written.
Usage statistics for the noun smile:
Usage statistics for the verb smile:
Distribution of usage frequency for the most common synonyms of the noun smile:
Photos about
Smile
Click on an item to view that photo:
If you need related images for an article or a report, you can download stock photos:
More...
Video language resources about
Smile
Click on an item to play that video:
View more videos about A Smile, Crooked Smile, and Duchenne Smile.
See also the pronunciation examples of Smile!
Sign language
Click on an item to play that video:
Quotes about
Smile
Go For That Smile


They say, smile though your heart is aching
I say, i go for someone who will make me smile
And make my dark day bright and sunny
So go and find the one that will make your heart smile.

Smile smile smile..God bless you (Meggie Gultiano)
more quotes about smile...
Scrabble value of S1M3I1L1E1
The value of this 5-letter word is 7 points. It is included in the first and second editions of the Official Scrabble Players Dictionary.
Anagrams of
S
M
I
L
E
What do you get if you rearrange the letters?
See also the blanagrams of Smile!
Share this page
Next...
Go to the usage examples of Smile to see it in context!